Pick up and Play Games
"If you have a minute to spare and a dollar to spend, buy one of my games!"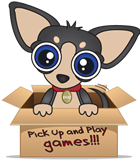 I have engaged into iPhone game development besides just iPhone web based applications.

Not everybody has a lot of time on a mobile device to play games for long hours; and the intention with my games, is exactly that, something that anybody can just pick up, start playing and having a good time challenging each other to beat scores or best times.

I'm in the process of updating some of the games with Corona ® SDK to be able to integrate OpenFeint and Game Center so you can compete against the world and unlock achievements while at the same time sharing your scores in Facebook so you can compete with your friends.
I am also a CoronaSDK ambassador and will be promoting this amazing tool with workshops around Austin TX.
I'll be posting my latest games and future projects on this site, so please check back often to see what's new.
If you have any questions about these games or would like to hire me to build your game or have a workshop, feel free to contact me.
---
:: Celestial Touch ::


Relax while you play!
Random sequence of energy orbs fall down the skies with different values. Play again and again to improve your high score and achieve new rankings.


:: Bunny Egg Cart ::


There are many "runner" type games designed mainly for hard core gamers, but rarely simple ones for kids.
This is a very simple, fun and addictive game designed by a 6 and 8 year old (my daughters).
:: Heart Break Touch ::


Everybody celebrates love in their own way, some call themselves heart breakers.
Do you have what it takes to be one? break 1000 hearts to be consider one...just becareful not to hit the love bug!
Compete with the world with openfeint leaderboards and achievements or just share your score with your Facebook friends.
Fun for everybody...especially if you've had your heart broken...it's payback!

:: Clover Touch ::


The goal of the game is to touch clovers and turn them into gold coins. 1000 gold coins wins you the pot o' gold.
A leprechaun is hidden in some of the clovers looking after his gold. Find one and game will be over.
:: Franky's Fly Buffet ::


Feed our little green fellow Franky the frog by dragging his tongue around the screen, sticking flies into his tongue and back into his mouth.
This full edition contains additional times, flies and options to enjoy the game even more.
How many you can feed him?

:: Crack an Egg, Find a Bunny ::


The goal of the game is simple, just like in an easter hunt, eggs are hidden and appear on the screen. Touch and crack 300 eggs to find a bunny...you have three seconds to crack the egg before the egg goes rotten.


:: Guanoween ::


Help grandpa protect his 6 pumpkins against the cute dirty bats.
Fun family Halloween app to play while you are trick or treating or while you are bored at the office.
Available for iPhone and iPad.